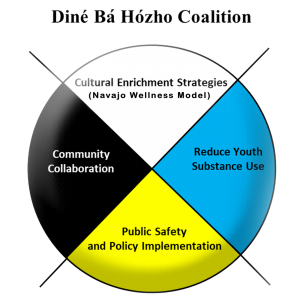 The Dine' Ba' Hozho Coalition in Shiprock, NM focuses on strategies that impact the community environment, not just individuals. These strategies include:
Creating incentives for positive behavior and consequences for negative behavior;
Reducing barriers/ enhancing access to supports and services in the community;
Changing the physical design of the environment (ex: cleaning up an area – removing trees, 100% visibility, and zero policy on Alcohol, Tobacco and Other Drugs), and
Creating policies and systems that impact substance use.
Vision Statement: Diné Health, Beauty, Wellness
Mission Statement: To unify people living in and near Shiprock Agency, in celebrating health and beauty while providing hope and recovery through education.
GOAL 1: Increase Community Collaboration
Strengthening the coalition through collaboration and increasing connections contributes to enhancing the well-being and health of the community of Shiprock and surrounding areas. The Coalition brings together agencies and community members to network, share and work together on selected projects for reducing youth substance abuse and fostering community health and wellness.
We incorporate this by maintaining a positive and engaging coalition structure and building community partnerships and outreach, and supporting traditional teachings through the Navajo Wellness Model, recognizing that belonging and connection to traditional teachings and philosophy is foundational for health and well-being.
GOAL 2: Reduce Youth Substance Use
Dine Ba Hozho Coalition is dedicated to the reduction of youth substance abuse, with a focus on three separate substances: alcohol, marijuana, and misuse of prescription drugs. Some of the strategies are intended to address abuse of all substances, and other strategies are aimed at specific substances. The Coalition also recognizes that supporting the health and well-being of the community overall is critical to having an environment that is conducive to healthy decisions by youth.
---